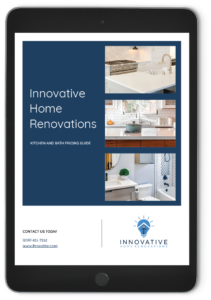 FREE PRICING GUIDE
How much will your
remodel actually cost?
You want to know precisely what your remodel will cost right? At IHR we believe guessing games are a waste of your time, which is why we created a free Pricing Guide-so you can stop dealing with "ballpark pricing" and finally have peace of mind knowing exactly how much your dream kitchen or bathroom costs.
Fill out the form below to receive access to the guide.
What's inside:

A Refreshing Approach
Learn about the IHR Renovation Roadmap-our thorough planning process that ensures your project will be on budget, on schedule, and best of all, a stress-free, successful remodeling experience.


Kitchen Remodels
If you're like most, your kitchen is the centerpiece of family gatherings - the space where life happens. Explore the options you have when it comes to upgradings your kitchen.


Bathroom Remodels
Whether you want to make a few minor changes or completely refine your space, you'll have a variety of options to choose from that will give your bathroom the look and feel you deserve.