Seattle Phinney Ridge Dream Transformation Kitchen and Bathroom Remodel
Tucked into the cozy Phinney Dream neighborhood of northern Seattle lies an eclectic craftsman home, where our clients wanted to do a complete dream transformation for their kitchen and powder room. They were looking for a multi-functioning kitchen with more natural light and highly contrasting colors. Adding a functioning shower to the bathroom was essential so that dirty chores in the garden and garage could be met with cleanliness and freshness as soon as one entered back home.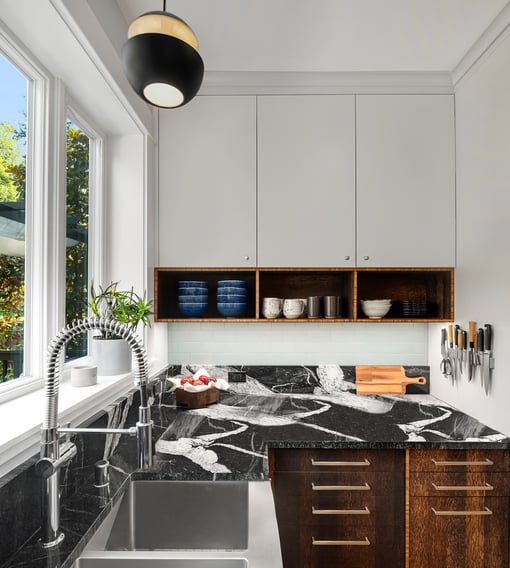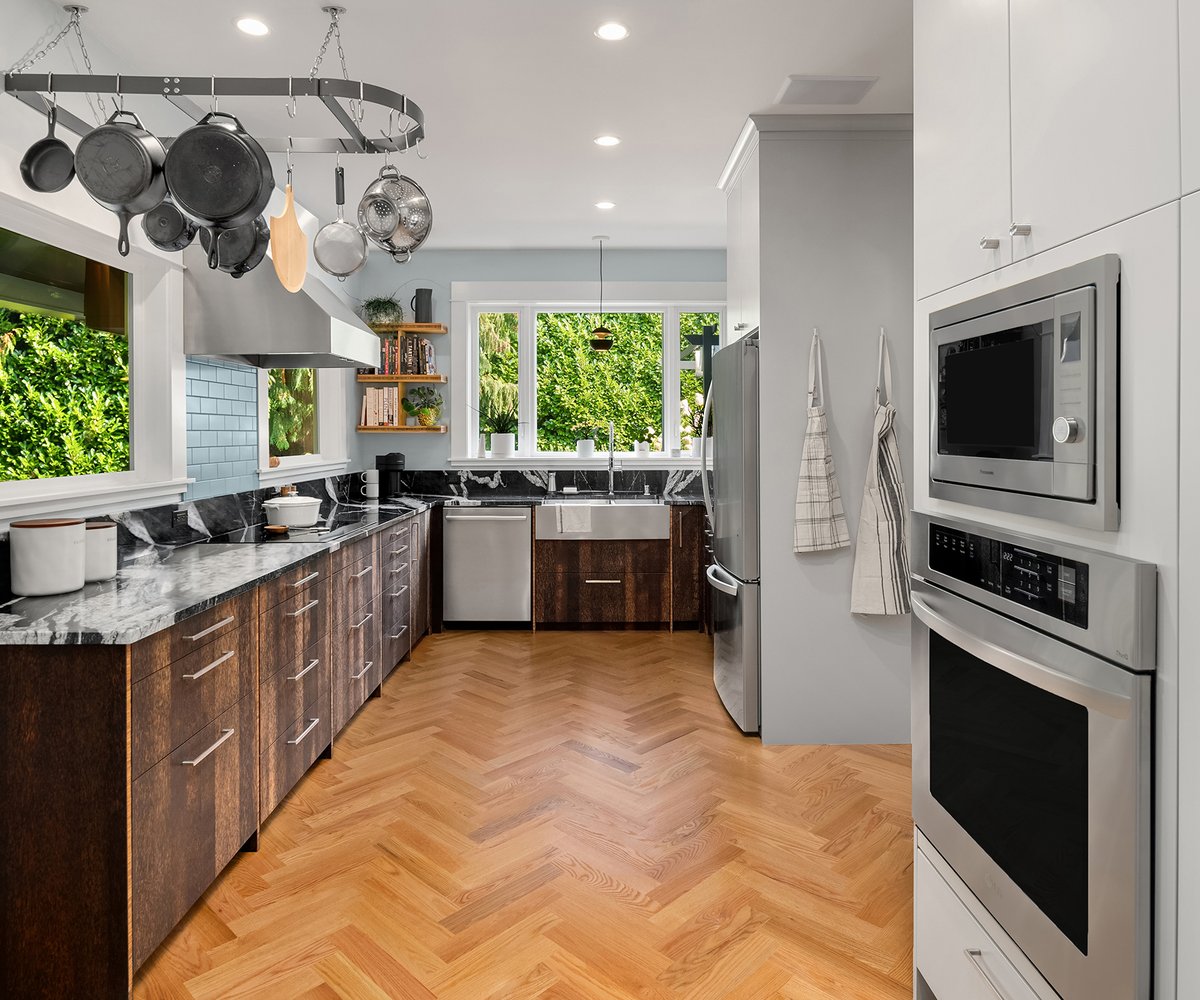 Large casement windows dominate the north and east walls, flooding the newly installed herringbone floors with stunning bright light. Closed off from the dining and living room, we maximized cabinet space on four walls with built-in accessible storage solutions that make everyday kitchen use more functional. A large, double-bowl sink was added to help with dishwashing. This honest stainless-steel approach was carried out in the style of an exposed hood vent over the induction cooktop. Floating shelves and open cubbies allow for personalized styling of cookbooks, plants and dinnerware.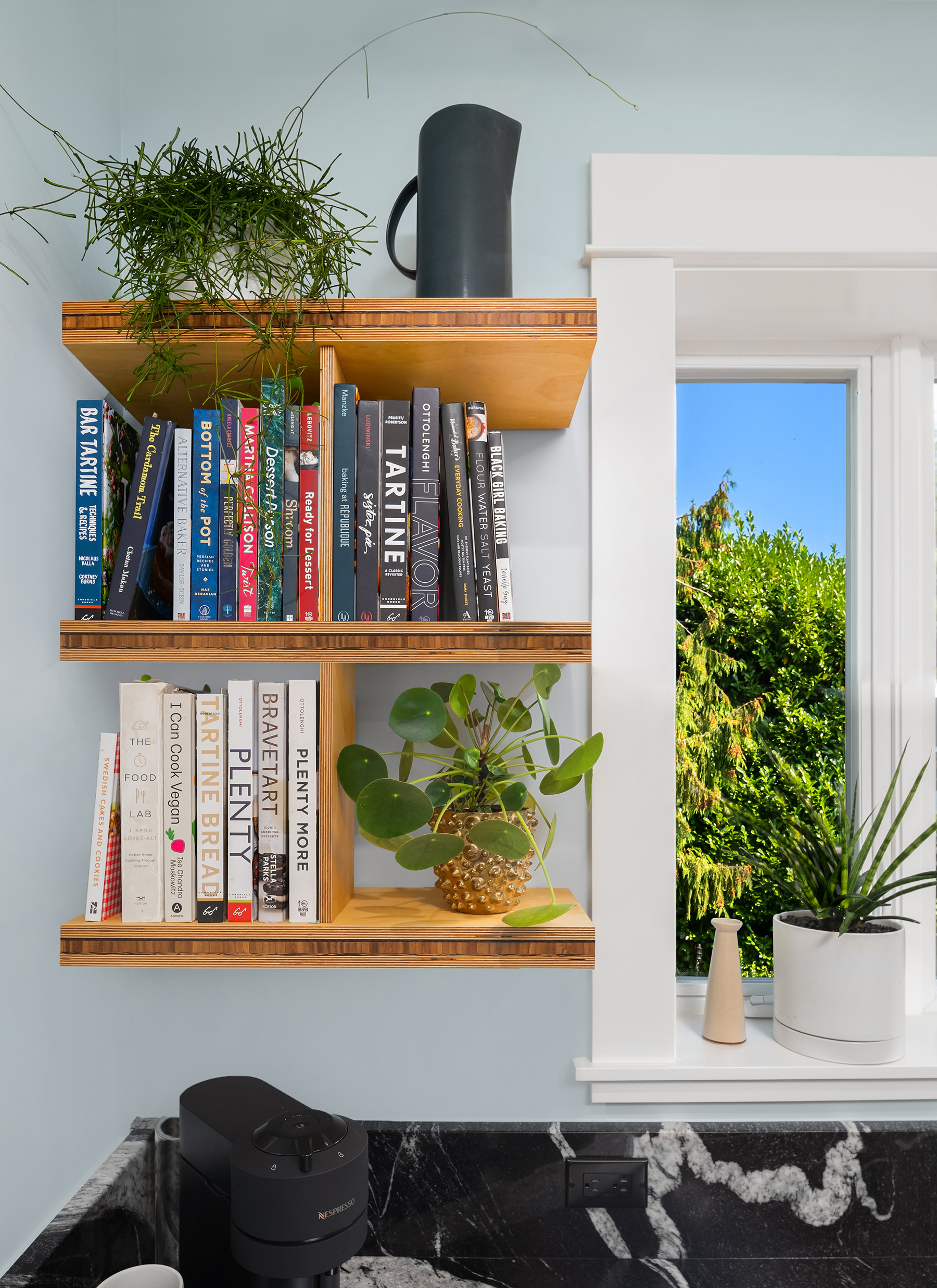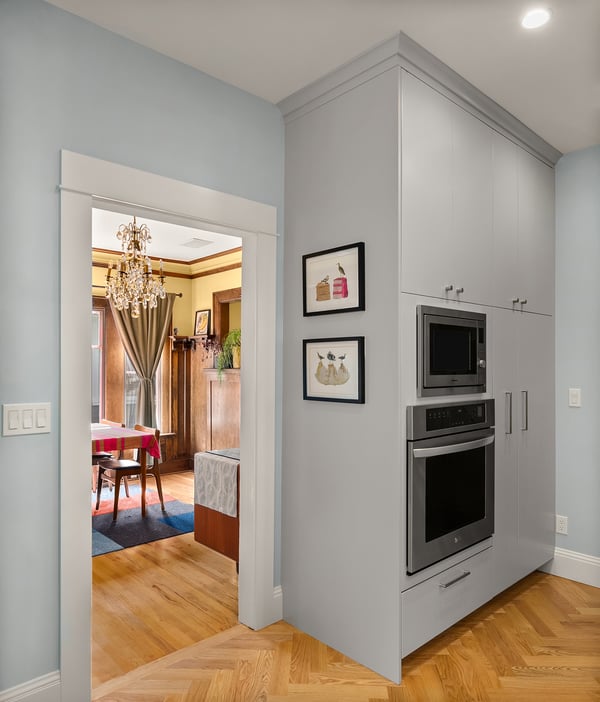 Bold black and white natural stone countertops add magnificent drama to the room, offset by cool greige and sugar palm cabinets that are full of character and depth. Minimalistic Costa Allegra backsplash tile softens the division between dark browns and black with a soothing sea green matte finish. Outlets are cleverly concealed in the natural stone, while the dainty yet personified Here Comes the Sun pendant unassumingly creates a very warm and inviting ambient feel.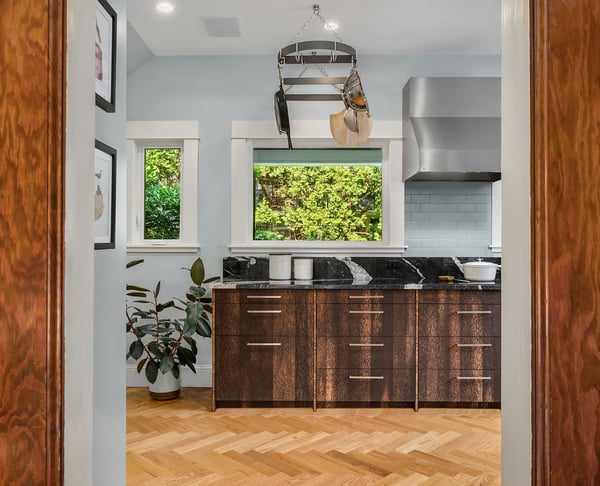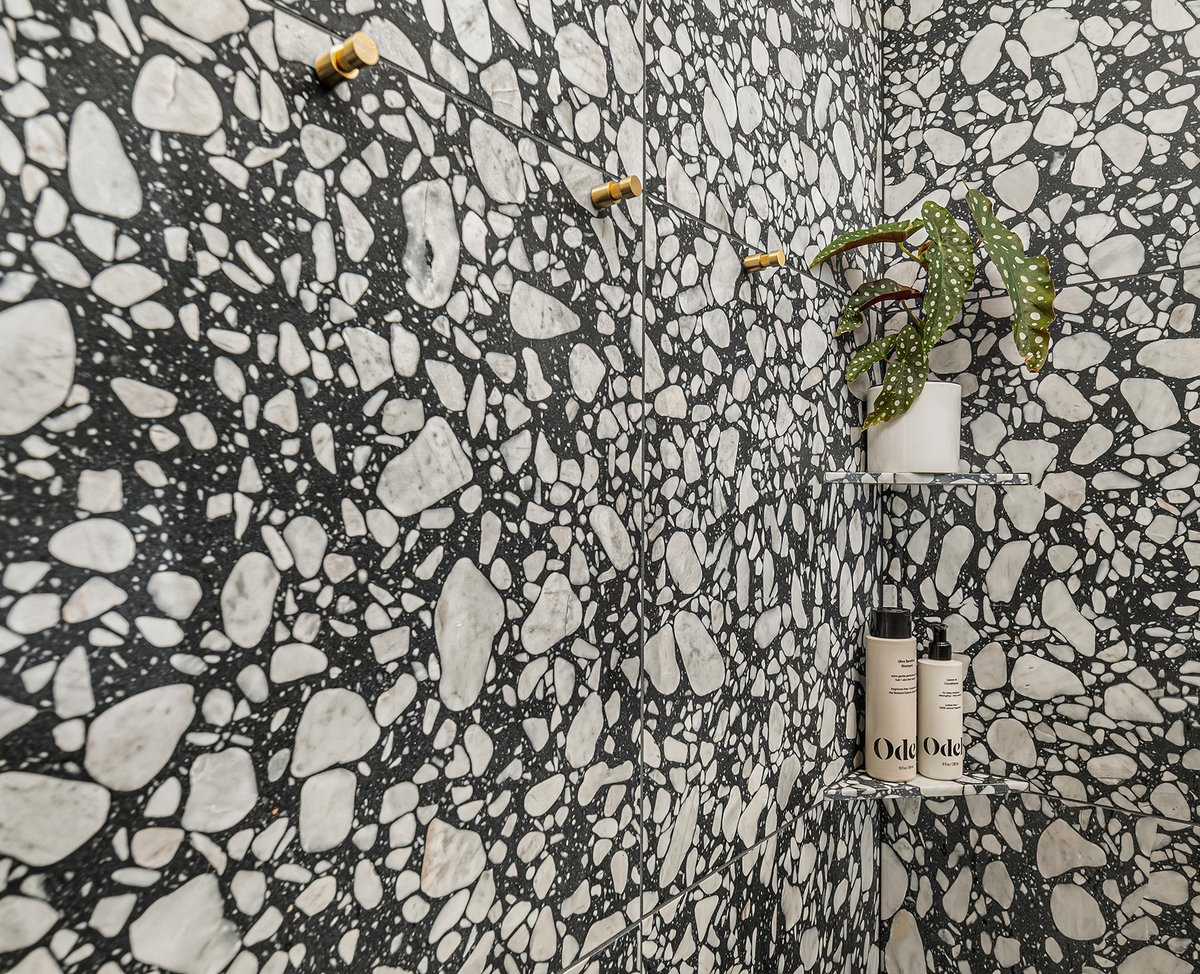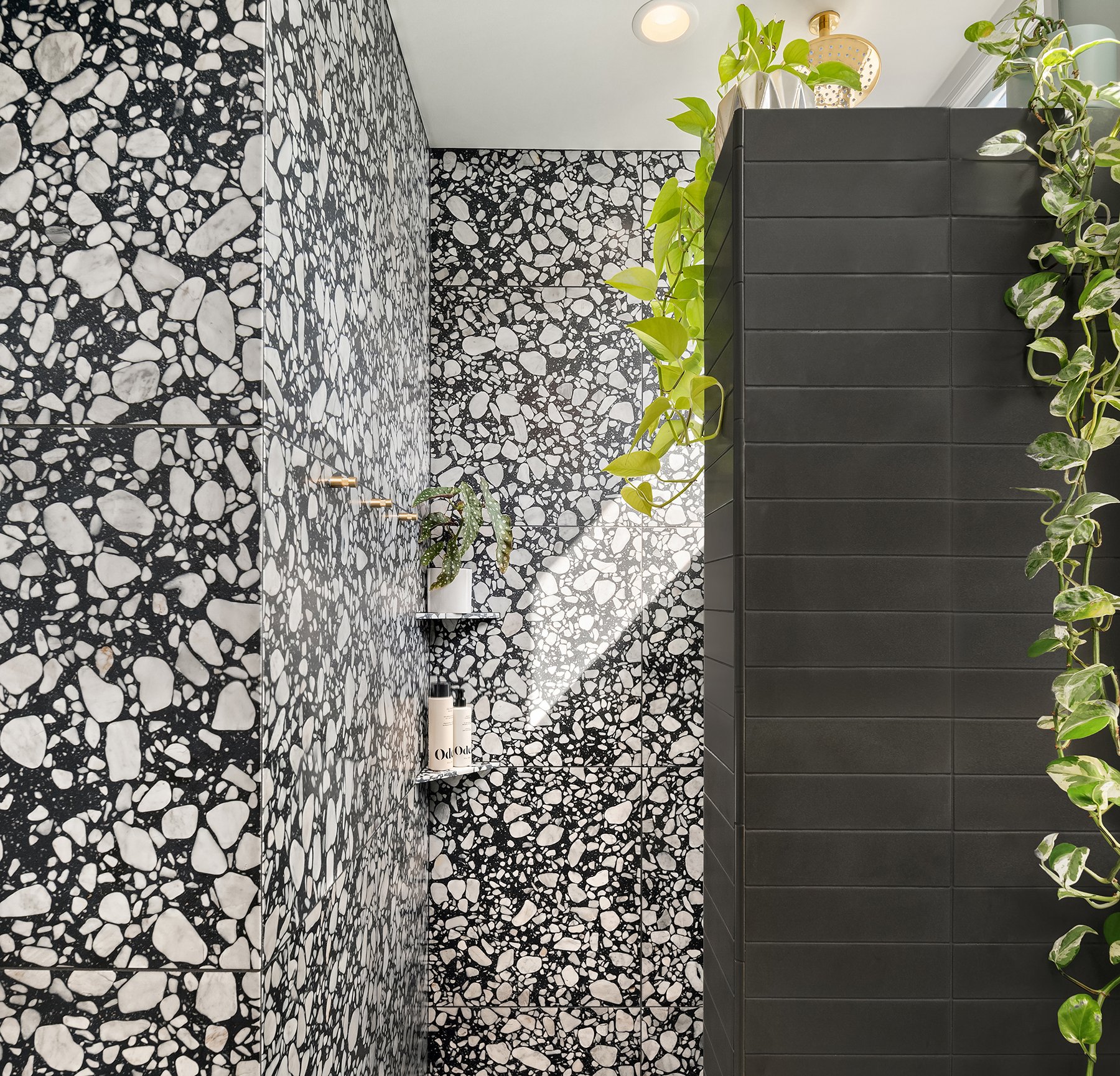 Our client's powder room was relocated to the office just off the back porch, creating a shared mudroom and full bathroom. Snug and enchanting, the slender shower equipped with a rain and wall-mounted shower head builds a spa-like experience unique to small spaces. A light grey Colmar floating vanity helps alleviate the weightiness of fixtures, with a modern approach to cabinet design in its use of carved finger notches that replace the need for hardware. The lighted medicine cabinet and heated floors show the use of intelligent technology that updates and elevates the new bathroom.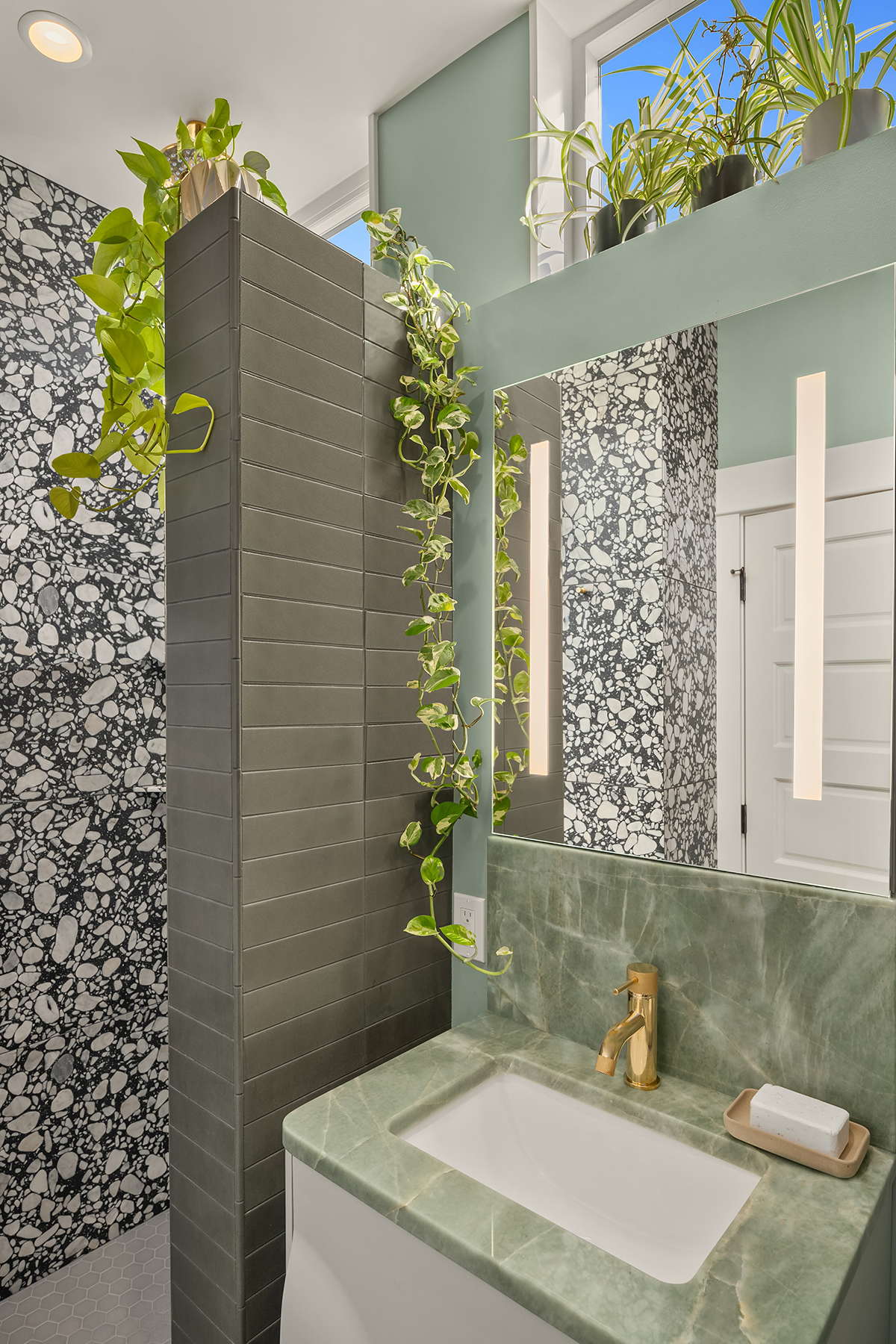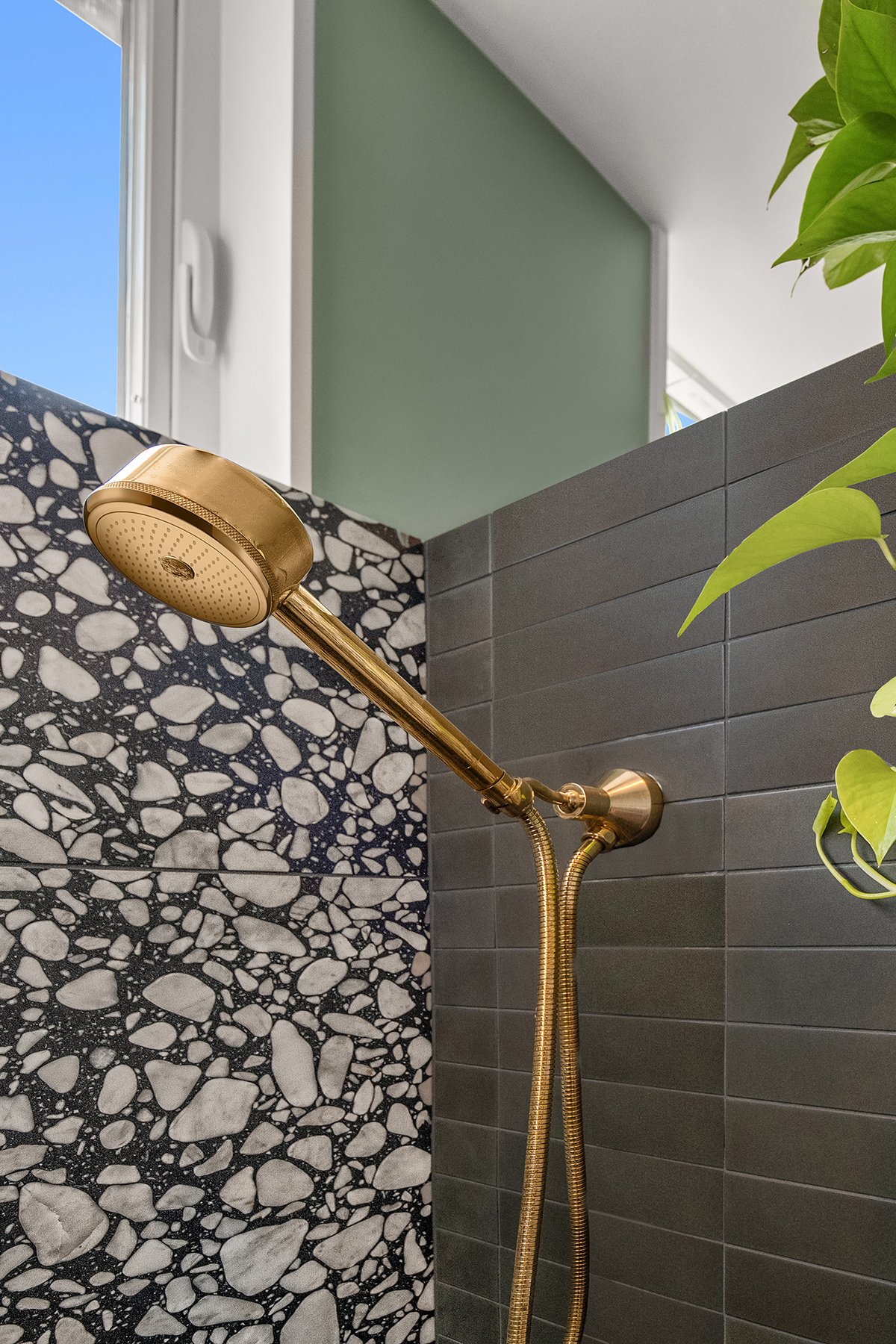 This revamped bathroom screams jewel box and references both contemporary and mid-century modern design. It maintains a largely neutral and cool-toned palette with black terrazzo square tiles in the shower, green quartzite countertops, and suave grey hex mosaic floor tiles. Polished brass plumbing fixtures with matching bathroom accessories evoke a passion for contrasting finishes and materials. Despite its petite nature, the clearstory windows and the addition of lively plants help the bathroom feel spacious and airy!