Seattle Sunset Hill Dream Transformation Kitchen and Bathrooms
Nestled in the neighborhood of Sunset Hill, our client approached us with a vision to revitalize the outdated kitchen, primary bathroom, and basement level of their home. Imagine a kitchen devoid of cabinets surrounding the cooktop, with linoleum counters and an abysmal lack of natural light, preventing even a glimpse of the majestic Olympic Mountain Range outside the window. Seeking a sophisticated mid-century style, we embarked on a transformative journey!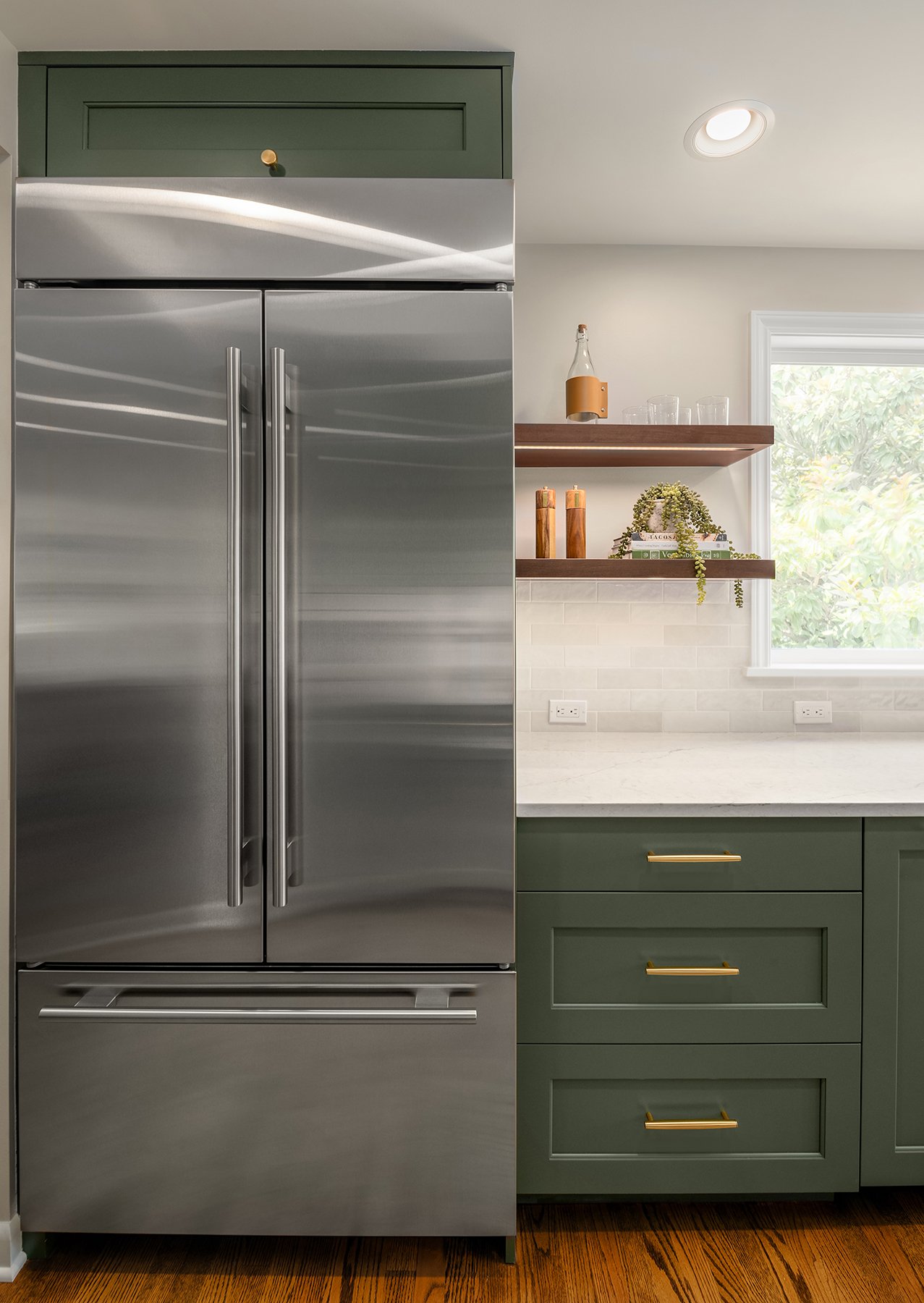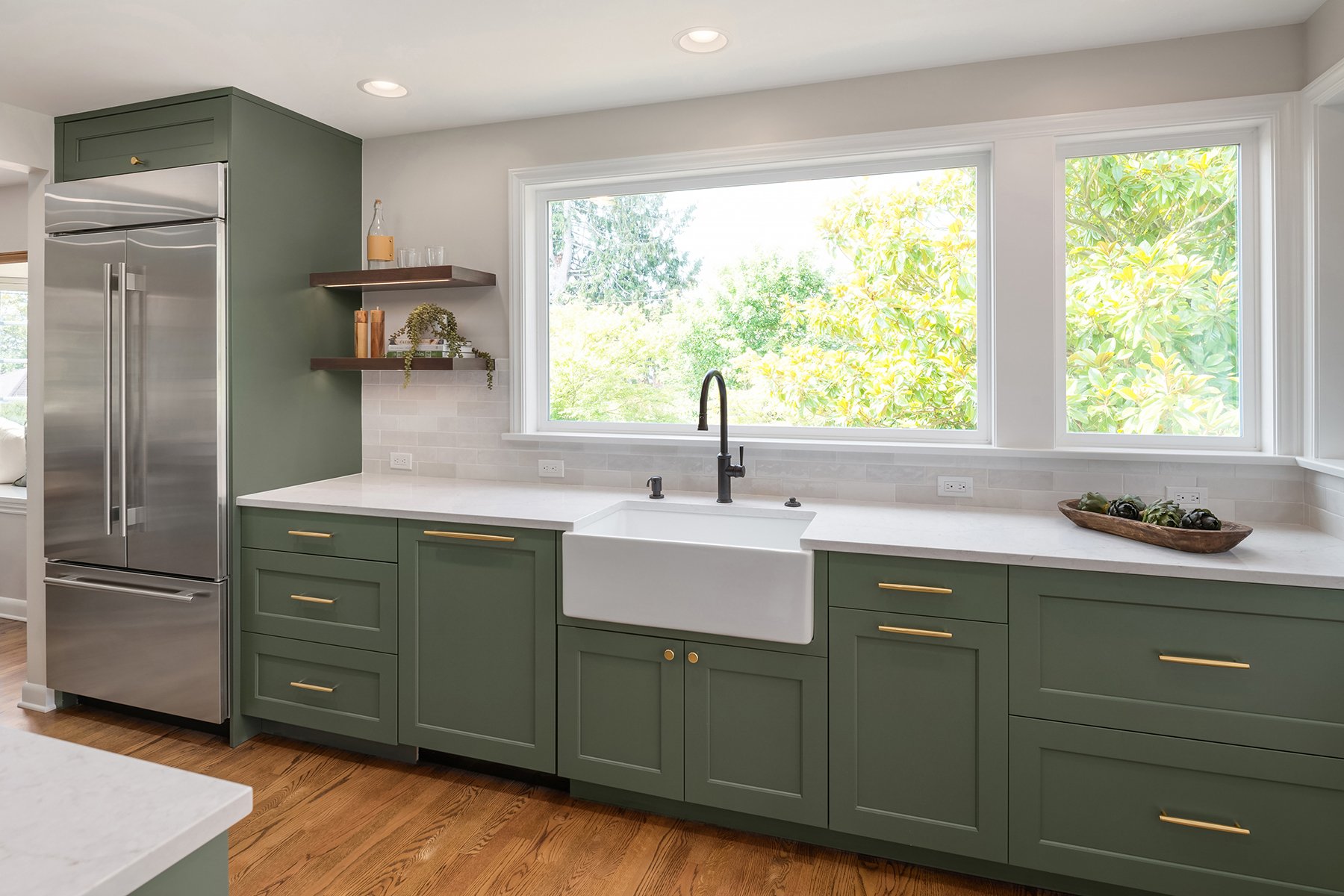 Beginning with the kitchen, we optimized storage with full-height cabinets and added windows to unveil breathtaking mountain views. An apron front sink evokes a welcoming ambiance, while bronze and brass finishes exude vibrance and elegance. Additional countertop space facilitates effortless meal preparation, while an expanded entryway fosters an open concept flow into the dining room.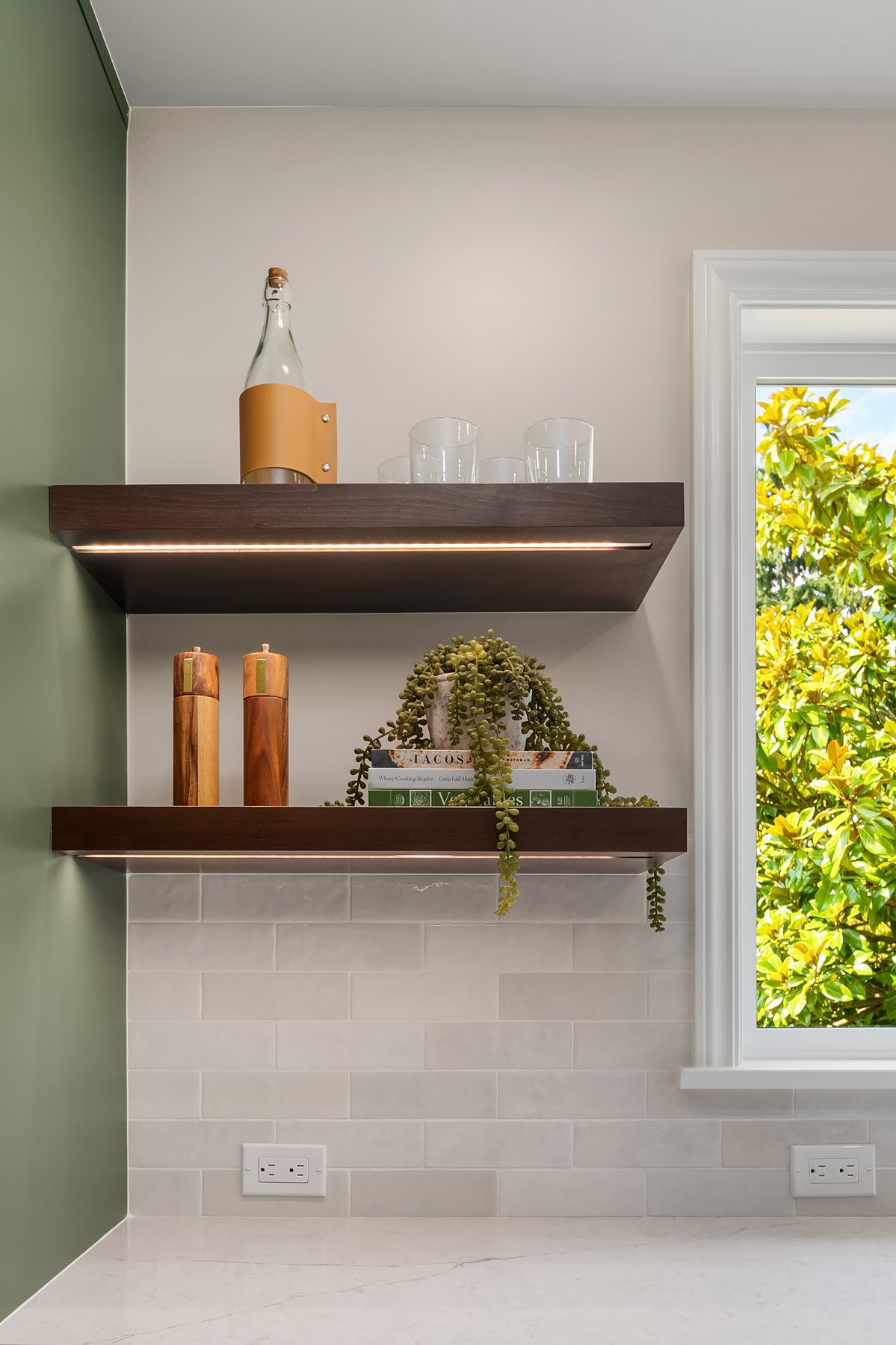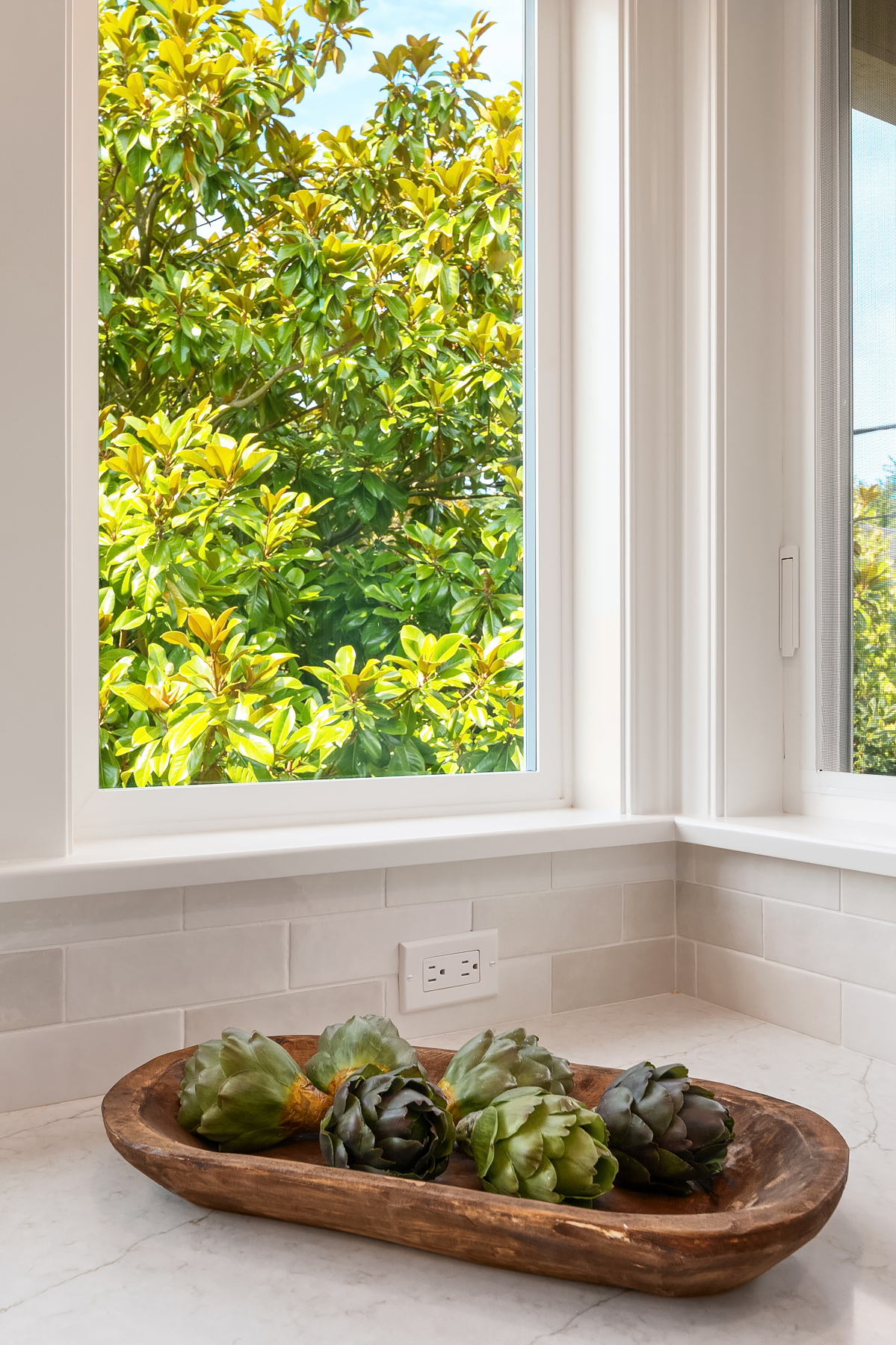 Sherwin Williams 6187 Rosemary shaker cabinets introduce a bold pop of color, alongside a custom decorative hood vent that serves as a striking focal point. The 30" Bertazzoni gas range provides a premium commercial feel, while maintaining an airy and chic aesthetic.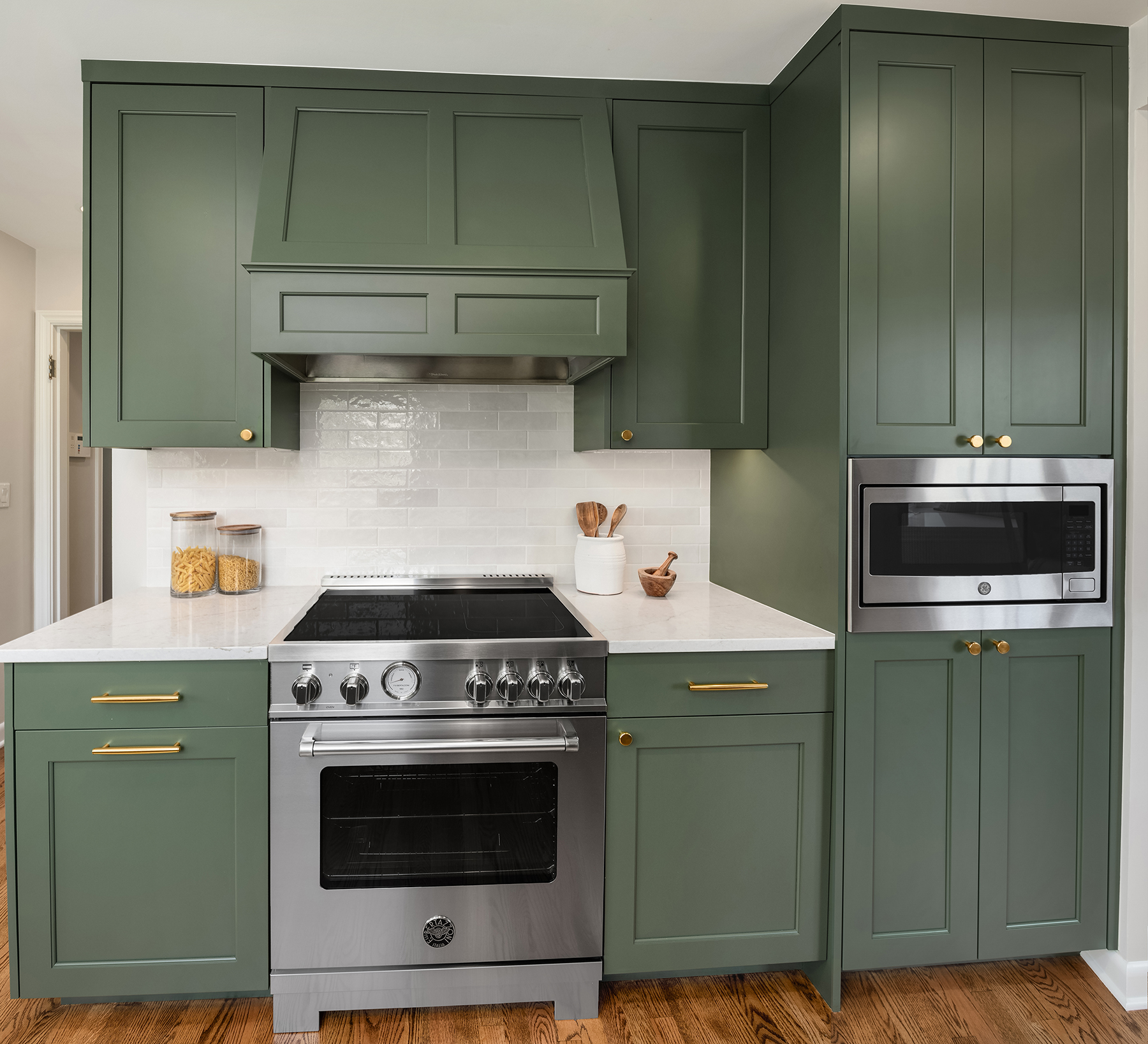 Grievances abound here, but none compared to the bathrooms. The primary vanity contorted itself into awkward shapes due to the small size, leaving your knees touching the tub, and not an inch to spare.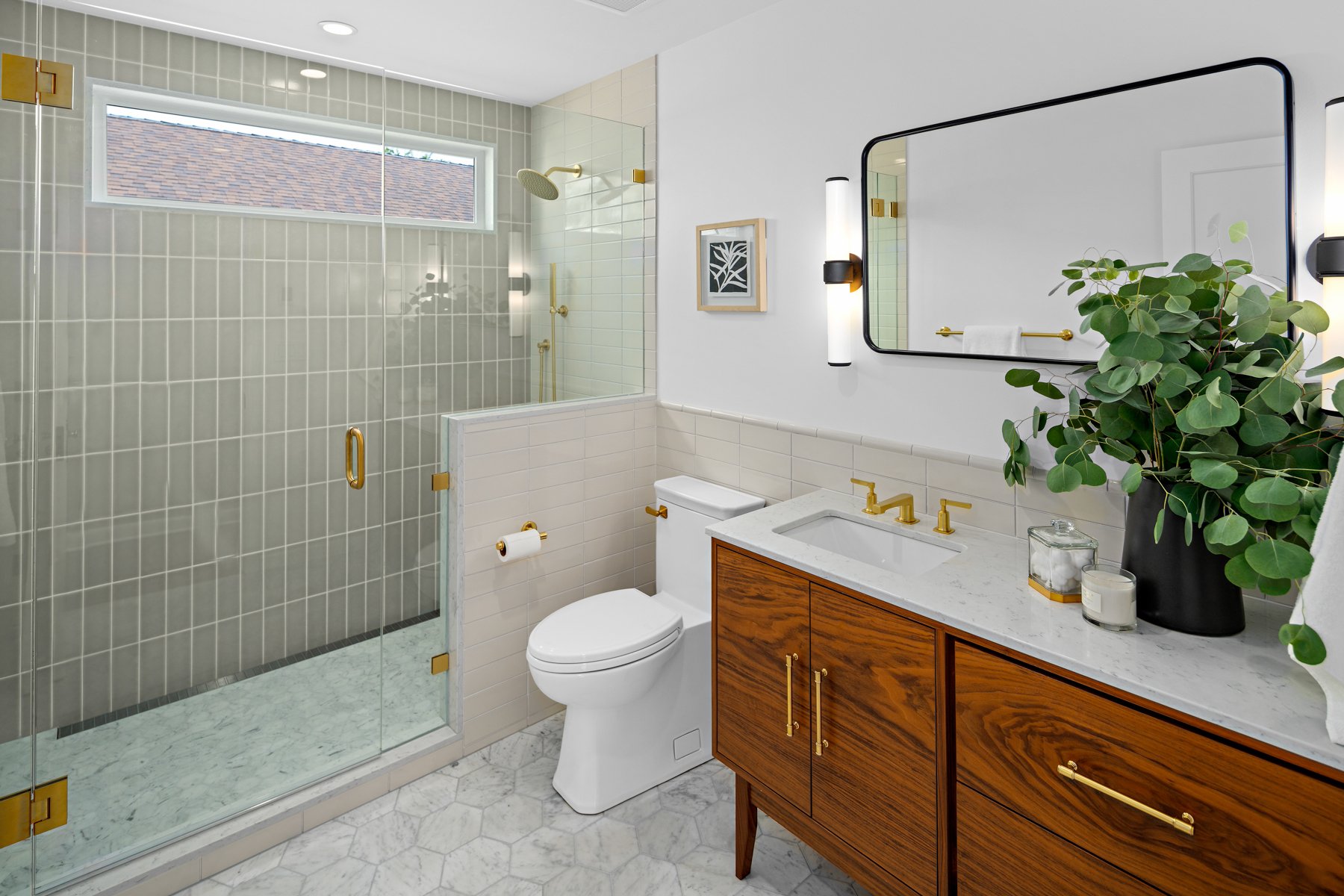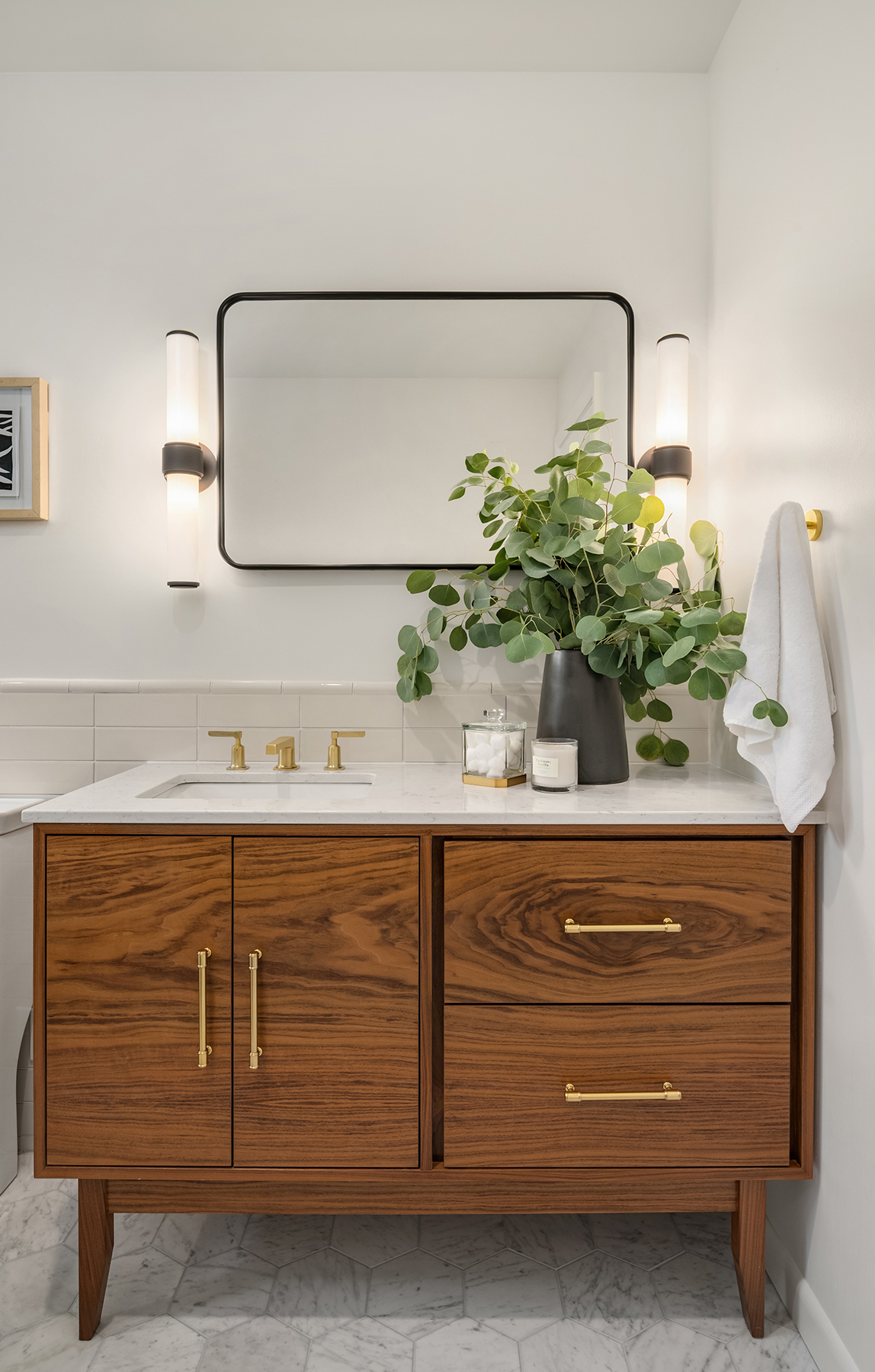 Amid-century vanity crafted from solid black walnut, the veined quartz countertop gives an off-white accent, and vertical sconces add an industrial edge. Finally, a large, rounded-edge mirror contributes a subtle organic touch.
It is complemented by a spacious walk-in shower and clearstory window that offers privacy and serene natural lighting. We opted for custom Fireclay tiles in the colors Tusk and Mist.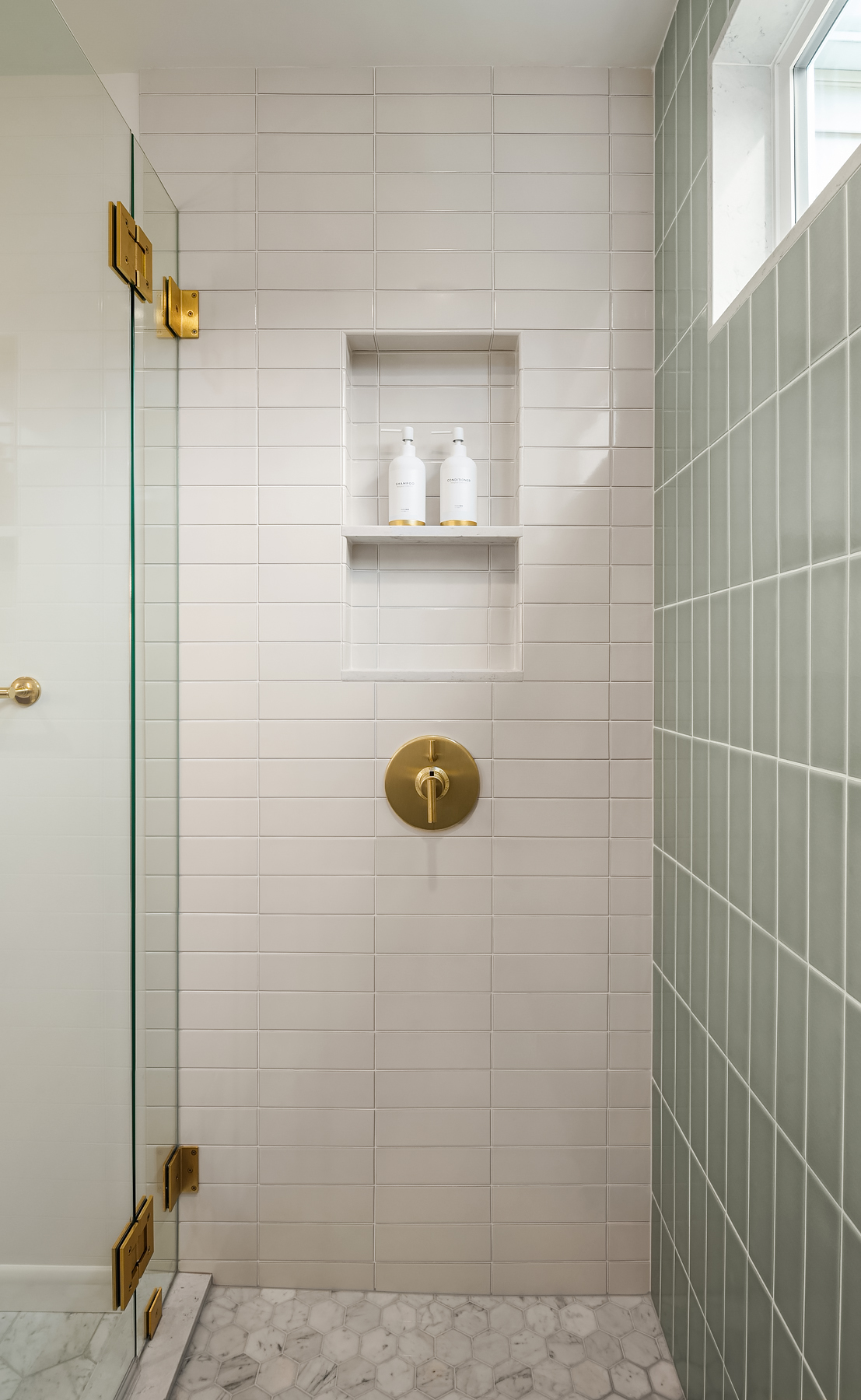 In the basement bathroom, we removed one unnecessary door to create entry access from the adjacent spare bedrooms. The vanity was relocated to greet users upon entry, accompanied by a spacious corner shower boasting ample storage and natural light. To provide comfort during colder months, we installed heated floors, adding warmth to this cool-toned bathroom.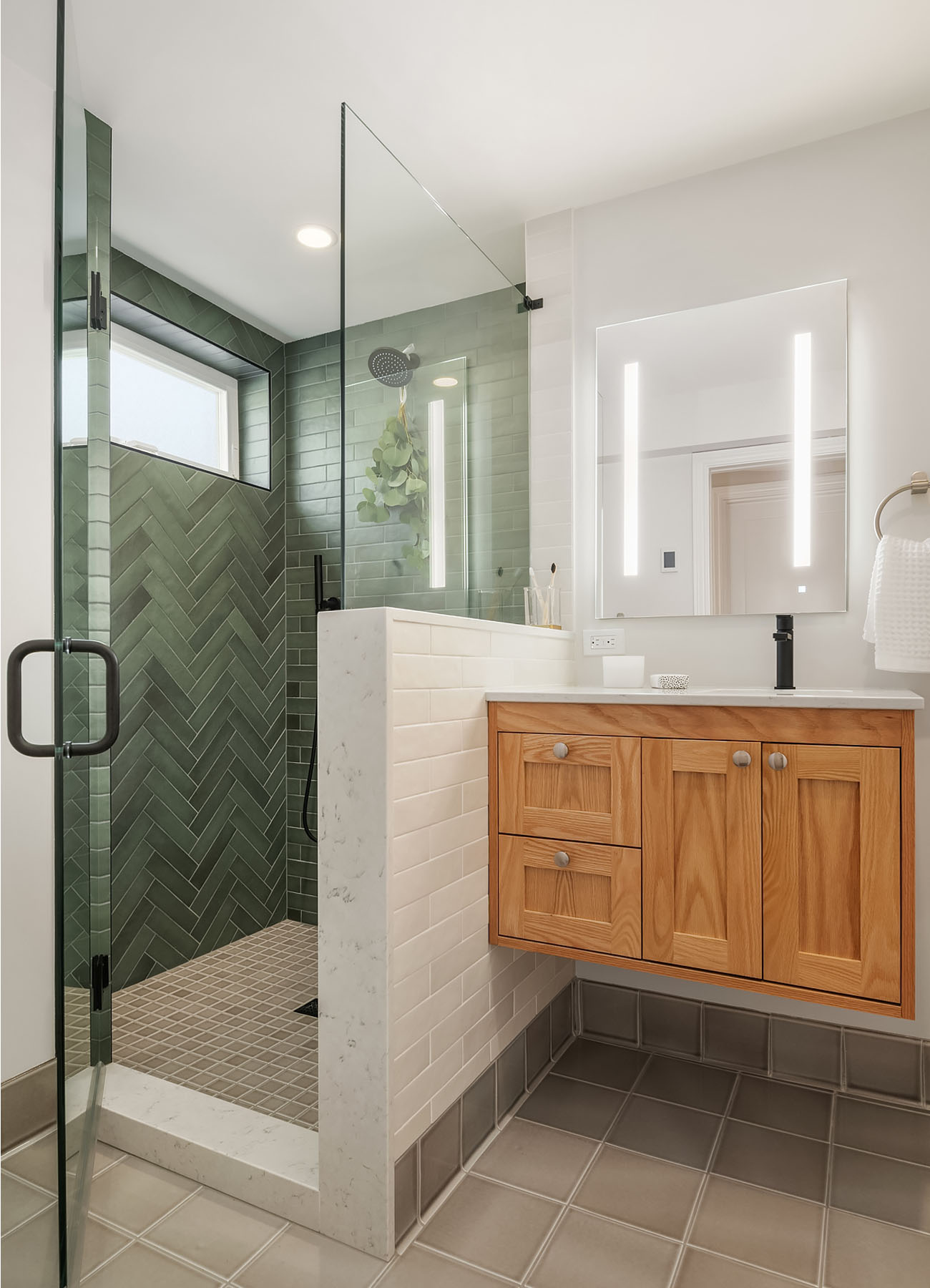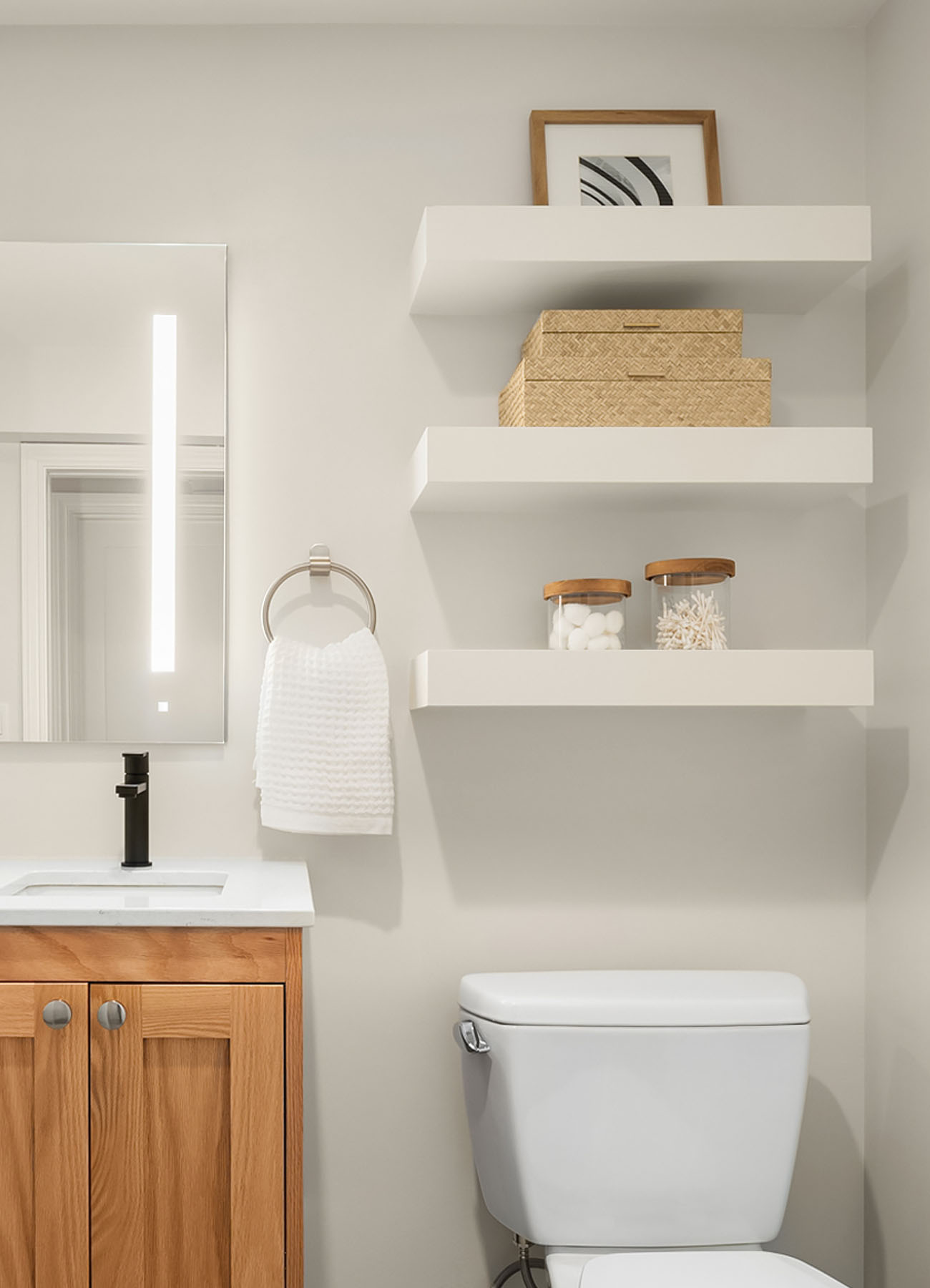 The natural oak floating vanity saves space and adds refinement, while a lighted medicine cabinet provides internal connectivity and a cleaner aesthetic by replacing wall sconces.
Custom Fireclay tiles appear again in the color Alpaca, paired with Bedrosians Makoto tiles in Midori Green and Shoji White. Tile baseboards elevate the room's cleanliness, while a herringbone pattern brings playfulness and movement.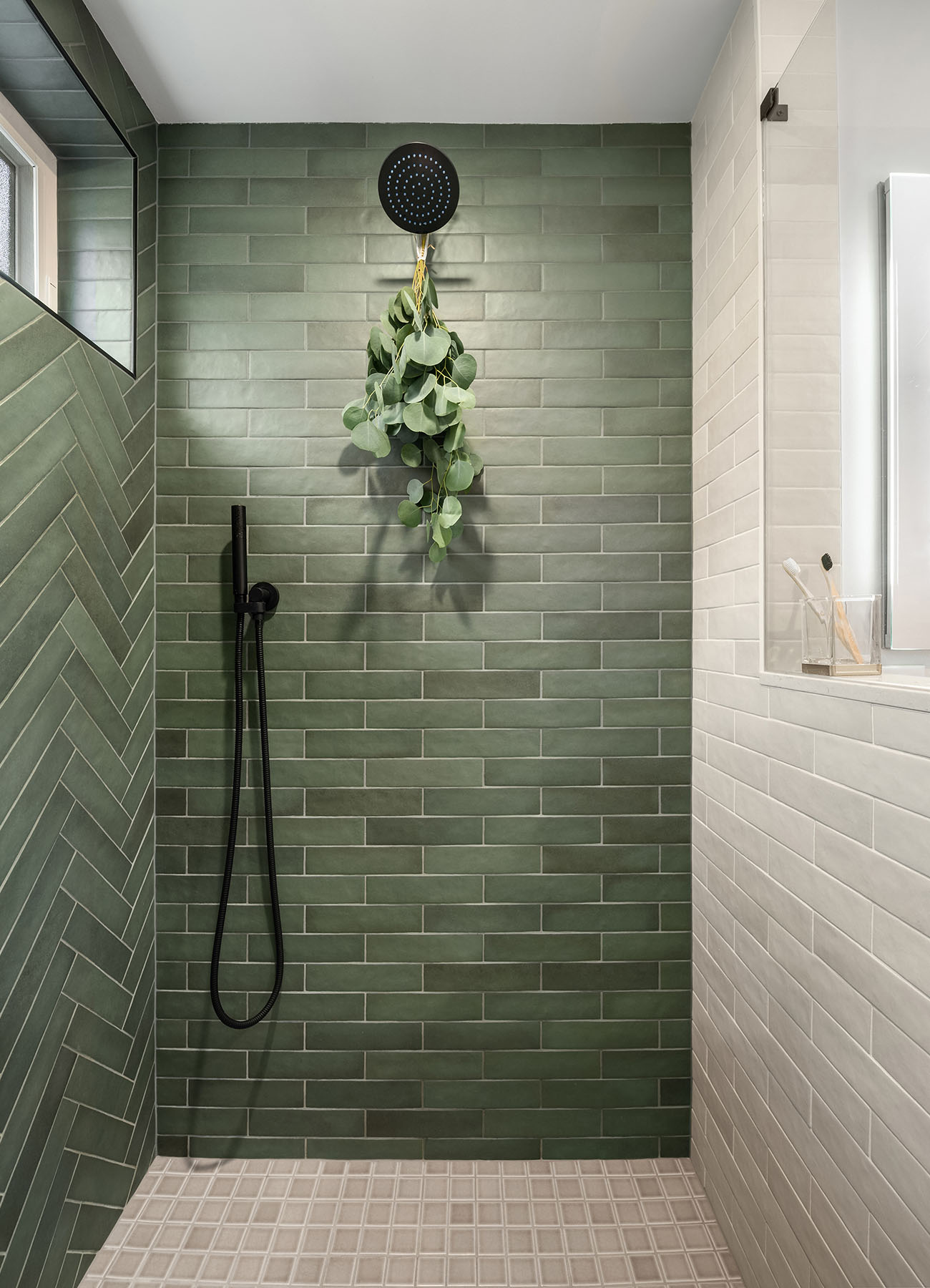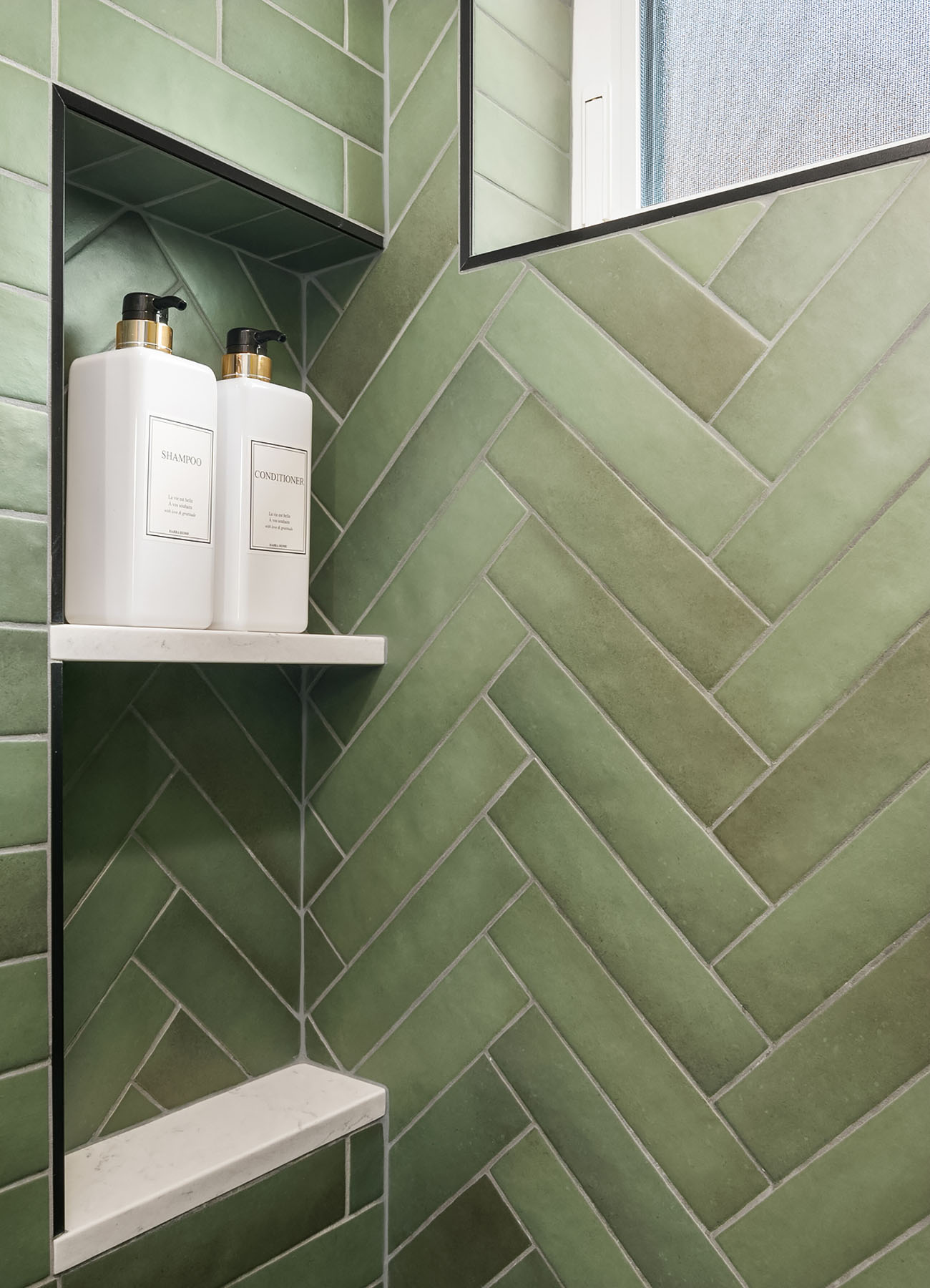 At the end of a long day, our client gets to relax in the living room next to a newly tiled fireplace and classic craftsman-style mantel, which create a more comforting space with modern sensibilities that keep with the updated kitchen and bathroom design.